Why Choose The Princess Party Co.?
You want your perfect little princess to have the best day ever, a day when she really can be a carefree little girl. You need to do something special. We have the perfect solution!
And what is that solution? It is not a night of watching movies and eating popcorn. Kids today spend plenty of time on screens as it is. Sending a tray of cupcakes to school to celebrate can be a nightmare in itself, with very little reward for your little girl. Chaperoning a gaggle of sugar-buzzed kids as they flock to a mildly disturbing mechanical rat is nowhere near as fun as it sounds. So what can you do?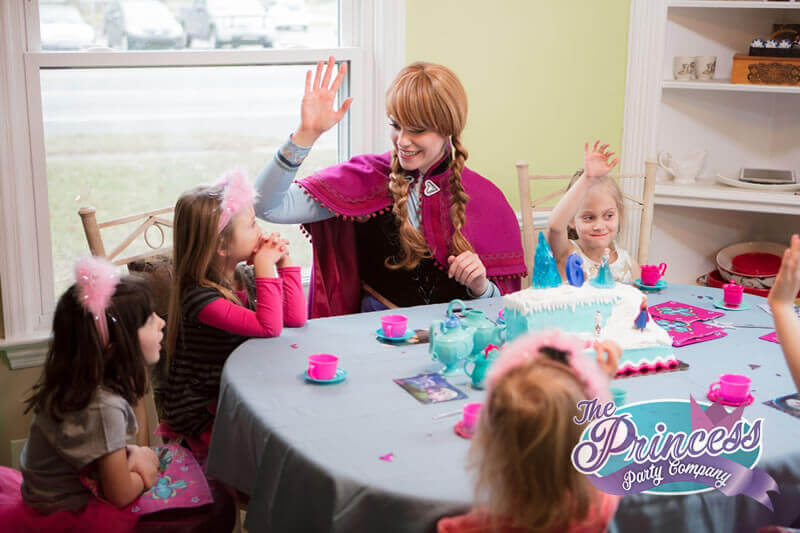 Shared Experience
It has been demonstrated that nothing builds memories for children more than having shared experiences with their friends and family. That is what we do here at The Princess Party Co. We create shared experiences to give your little girl and her friends something that lasts long after the final slice of cake is eaten. What we offer cannot be found anywhere else.
What It Is
Simply put, we pull princess characters right out of the fairytales and send them to be with your princess and her friends on a special day. This is not just kids watching a movie or playing video games at a pizza parlor. This is something out of your child's dreams, live and up close. Our princesses don't just show up and get some pictures taken. While they are with your children, they actually become that princess character and interact with your child the same way their favorite princess would.
How It Works
Our perfectly costumed princess will arrive at your event and start off right away with greeting the party guests. No awkward set up, no delay between their arrival and getting everything started. You select the princess and package that is the best fit for your event, and our princess takes it from there. Storytelling, games, singing… All of it is designed to flow without a hitch. From the moment our princess arrives to meet yours, all you have to do is sit back and watch your little girl have the time of her life.
Why It Works
Developing the best possible princess entertainment for an up-close, interactive experience was no accident. Our staff consists of live entertainment specialists from some of the nation's finest theme parks, professional cosplayers, and performers who have dedicated years of their lives to creating the perfect event entertainment for children. With literal decades of combined experience, anything less than perfect is not an option.
Why The Princess Party Co.
Perfection is our hallmark. No matter the environment, no matter the temperament of children in attendance, we have experienced it all. Our performers have spent dozens of hours perfecting their characters. Our costumes have been tested and reviewed for authenticity to the point that they are 100% camera-ready—not cut-rate Halloween costumes purchased in post-Halloween sales. These are the real deal. Before a princess goes out into the field, they run a gauntlet of tests in front of live audiences to make sure they are up to snuff. Your princess deserves the best, and that would be us.
Why We Do This
What leads to a live entertainment company doing princess parties? To us it is a simple answer. We believe in magic. We believe that kids today grow up too fast, and that every little girl should have a chance to believe in magic for just one more day. That brings us to the second part of what we do. Some of what we make doing princess parties for little girls like yours goes into donating princess appearances for those less fortunate kids who need it most. From personal visits to parties at children's hospitals, we give our time to make the lives of less fortunate children just a little bit better. It means the world to us.