< MORE PRINCESSES
Cinderella is a classic princess for a classic party! Despite her humble beginnings, she is very regal and knows how to be a wonderful host. You and your guests will have a great time with one of the most famous princesses of all at your Bibbidi Bobbidi Bash!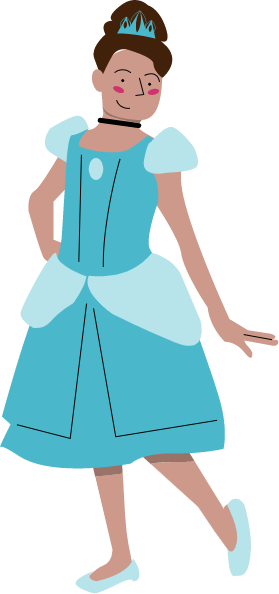 When you are planning a Cinderella princess party for your little one, you only want the best. We are established as the best in the business. No matter which princess you are looking for, our company will provide you with unforgettable characters for your event and go the extra mile to meet your needs. We are your magical memory making destination!
Cinderella will be overjoyed to attend your little one's birthday celebration, as well as any other reason for gathering. No matter what your special day is focused on, our company can make it a truly memorable and magical experience for all. Our events can take place almost anywhere, and for all ages!
Why rent a Cinderella from just anywhere when you can spend your hardearned money on a professional performer from a trusted, national organization. There is only one company who can guarantee the best interactive event experience, and you've found us! The Princess Party Company prides ourselves in delivering the most personalized, interactive, and professional events anywhere. Cinderella will create lasting memories for all of your special guests.
We offer different party options for your event, and you can select the one that fits your little one best. Cinderella will always provide the Signature Storytime, but you may find that you'd like some interactive games as well! In this way, you can ensure your party is suited to your little one!