< MORE PRINCESSES
There is no better person to help your guest of honor celebrate than Tiana! She may have been a bit green at one time, but she's a hard-working and determined royal who is ready to help you throw the best party of all! This former-frog princess is ready and determined to put a big smile on all your guests' faces.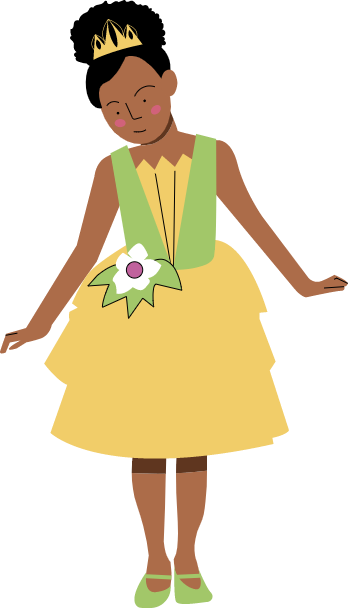 There is no better way to show your guest of honor how important they are than with a princess Tiana party. This will be the most fun and interactive event you could offer your guests. Our company guarantees that all of your guests will leave your event with big smiles on their faces.
All of our princesses are trained at creating a fully immersive experience for our guests. Tiana will engage with everyone, and make the guest of honor feel like a royalty themself. Make sure your party is regarded as the best one of all with us!
You do not want to hire just anyone to come and entertain your guests, you only want the best. The Princess Party Company is the leader in professional, interactive, and polished children's entertainment. Tiana and all of our performers are the best when it comes to creating magical memories that will be fondly remembered for a lifetime.
Interested in options beyond our Princess Tiana birthday party? You're in luck. We offer so many types of events, based on your needs, that you can certainly find one that works for you. Tiana, and any other princess you like, will perform Signature Storytime and Magic Wishes for all of your guests. Your party will be the best!