< MORE PRINCESSES
There are many fairy tale princesses, but there is only one Snow White. She is the fairest of them all, and she would love to help make your party a dream come true. She will be an exemplary guest, as she will not have seven smaller friends in tow.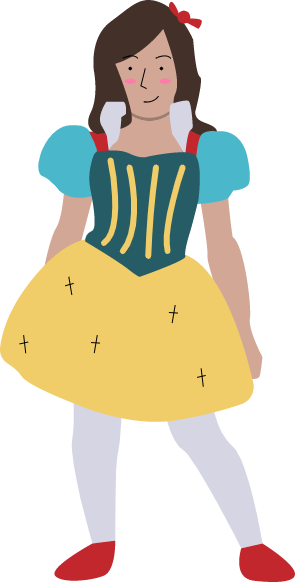 There are many ways to celebrate, but with a princess Snow White kids princess party, you cannot go wrong! She will spend her time being fully engaged with all of your guests, and if there is a guest of honor, they will certainly feel special. Let our trained professionals make your planning easier.
Snow White will entertain your guests and create magical memories for all. No matter what type of party you are hosting, or what type of activities you have planned, she will join in and be a special part of your big day. This princess may pass on bobbing for apples, however.
Don't roll the dice on some average Snow White rental for your child's party. Spend your hard-earned money with a reputable business. There is only one company that can guarantee the most professional, personalized, and interactive event for your guests, and that is The Princess Party Company. Snow White and all of her fellow performers are the best in the business, and will allow you to feel confident in your event planning choice.
Snow White will share her Magic Wishes with everyone, and if you choose this option, would love to perform the Princess Coronation for your little one. Make sure your event is the best around by hiring our top-notch entertainers. Your dream of the best party is a wish our company will make come true.